About Armour Insurance
Our goal at Armour Insurance is to earn the trust and respect of our customers every day. We take pride in the high level of service that our experienced staff provide. We strive to be an industry leader through hard work and commitment from every employee, which in turn keeps our customers loyal and satisfied.
Our business is built on relationships of mutual trust and respect which we build through professional advice and hard work. Armour Insurance Group invests in new technology to provide new customer contact opportunities while providing trusted advice and service in the market.


Armour Services
We are a full service brokerage. We are available and happy to meet with you in person, talk with you on the phone, or communicate through email.
When you request a quote we'll get back to you quickly. One of our insurance professionals will call you back to discuss your insurance needs. For more information on the types of insurance we provide, please click on the links below:
History of Armour Insurance
Armour Insurance Group was established in 2010 when MBS insurance Brokers North changed its name to Armour Insurance Group Ltd. Armour Insurance Group provides complete insurance products to protect all of our customer's assets. Armour Insurance services all lines of property and casualty insurance making it easy and convenient for our customers to compare rates and plans in one place.
We have continued to gain the confidence of consumers each year and maintain a steady growth.
Armour's Mission
Armour Insurance will:
Provide professional customer service with competitive products, premiums, and services.
Educate customers on purchased products and the insurance marketplace.
Represent top insurers in the Canadian marketplace.
Maintain a state of the art agency operating system to operate efficiently, and provide cutting edge service.

Calendar and Newsletter
Stop by any Armour Insurance office and pick up a free calendar. Our free monthly newsletter is packed with insurance information and tips to help protect your possessions and exposure to risk. Subscribe to our monthly newsletter.
Community Involvement
At Armour Insurance Group we are committed to supporting and being involved in our community. Each year we are proud to donate to the charities, organizations, and events that support our communities.
We believe, that by donating to charitable organizations and foundations, we can help our communities grow and prosper. Some of our past donations include:
Grant MacEwan Insurance Scholarship
Through the years we have regularly sponsored community teams, organizations and events.
Donations for the Edmonton Food Bank collected at our Edmonton head office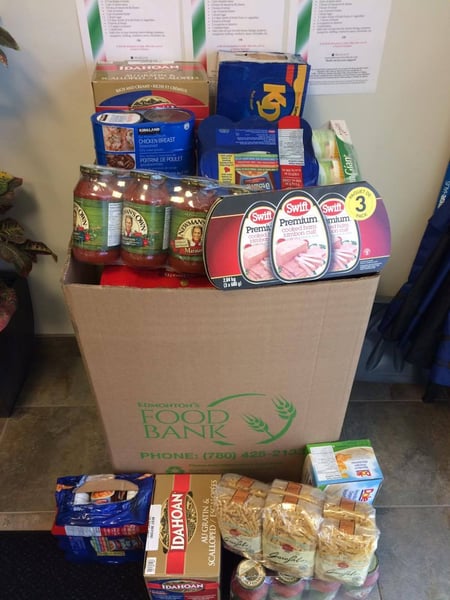 Green Initiatives
Over that past five years, Armour Insurance has been introducing strategies to operate a paperless office. We work with companies to move information electronically and we provide many documents to our clients electronically as well. We are pleased to provide your insurance documentation electronically to help reduce our collective footprint.
Customer Care
At Armour Insurance, we pride ourselves in our customer service. Whether you're looking for quality insurance products, knowledgeable and helpful claims assistance, or easy and convenient payment options, we're only a phone call, chat, or e-mail away. We look forward to hearing from you!
| | | |
| --- | --- | --- |
| | | This fall, The Center for Study of Insurance Operations (CSIO) announced 50 Technology Leader Brokerages from across Canada. Armour Insurance was chosen as one of the brokerages to receive the award. Innovation and technology are at the heart of Armour's strategy to create a seamless experience for our customers. |