Term Life Insurance (Temporary Insurance)
Initially, term life insurance is an inexpensive option. It is often used to cover temporary debt such as mortgage and other shorter term issues.
Term insurance prices increase dramatically with age. Owners of these policies can expect to experience an increase at each term renewal. There are a variety of these term options available.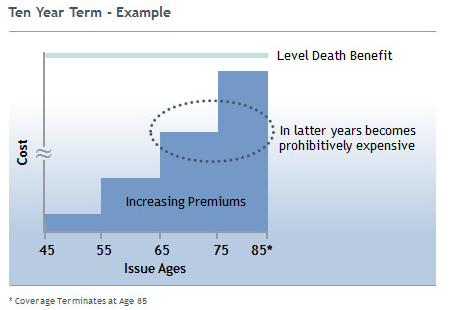 Should I Buy Term Life Insurance?
If you looking for any of the following items, you may be best suited for a term life insurance policy.
Coverage for short (10-20 years) periods of time
Available Term Life Insurance Options
Finite life – coverage ends at age 75-85 (depending on the insurance company)
When selecting a term product you should consider the time frame that you will need the coverage, and take into account when the following events will take place:
Debts such as mortgages will be repaid
Retirement savings will be fully funded
Primary dependency period will end especially children's education
Are you considering term life insurance? Tell us about your circumstances and one of our representatives will offer advice. 1-855-475-0959