Usage Based Insurance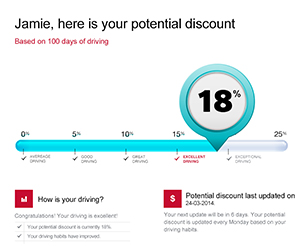 A new age of insurance is coming and it may just save you some money! Usage Based Insurance (also refered to as Pay As You Drive Insurance or Telematics) is already being used in Ontario and Quebec. It's only a matter of time before we see it in Alberta.
Usage Based Insurance Explained
Usage Base Insurance means that you're charged for your insurance based on how you drive. It came about to address the extremely complex, and sometimes unfair, methods used to determine drivers' insurance rates. Basing rates on how each individual drives their own car makes more sense than basing it on stats like how a certain age group drives their cars on average.
This could mean big price reductions for good drivers and the technology to make this happen is available now. Intact Insurance already has a large number of drivers in Ontario and Quebec using this technology and recieving discounts on their car insurance.
How Does it Work?
Customers participating in this program are given a device that attaches to their vehicle. This device receives real-time information from the vehicles computer as the customer drives his or her car. This information, along with gps data is transmitted back to the insurance company and posted in a user dashboard. You can login when you get home and see how your driving is progressing.
The insurance company uses this inforamtion to determine your discount. With Intact you can receive a %25 discount. In fact, in Ontario right now you receive a 5% discount just for participating in the program. After a month of driving they start calculating additional discounts based on the data collected on your account.
When Can I Start Using UBI on my Car?
Now! Intact Insurance is offering this service to customers right now. It's called the My Driving Discount. Watch the video below to find out how it works and call Armour today to find out how to put the My Driving Discount on your policy:
1-855-475-0959