Intact customers can save up to 25% on their car insurance just for being good drivers!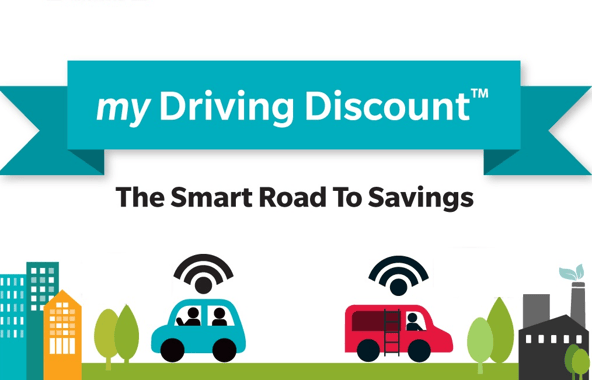 We believe that good drivers should be rewarded for their good driving habits. The free and easy-to-use mobile app my Driving Discount can save you up to 25% on your insurance premiums!
Save 5% on your car insurance just by signing up!
This program is perfect for safe drivers who want to benefit from being rewarded for their good driving behavior.
Earn personalized discounts based on your driving behavior!
Am I Eligible?
If you answer yes to these four questions, then you are eligible for the my Driving Discount program!
Are you the principal operator of a vehicle?
Is Intact your car insurance provider?
Do you have either an iPhone iOS 8.2 or later or Android device version 4.3 or later?
Do you have a data plan and live in an area with cellular network coverage?
There is no cost to you for enrolling in the program!
How Does It Work?
Talk to your insurance broker about signing up for the program. We'll send you a confirmation email and you can then download the free app, log in, and enable location services.
During 180 days from the date the app is activated and you start driving you must drive a minimum of 1,000 km in order for a discount to be calculated.
The app will require data (an internet connection) to function. The data required for the app over a one month period is similar to the data required to play a 15 min YouTube video (you are responsible for any data and roaming fees associated with your service provider as a result of using the app).
Using the mobile app will affect the battery life. You must ensure the mobile device is charged and functional when the vehicle is being driven so that driving data is recorded.
Once you qualify for a discount, the discount will stay on for life! No need to re-qualify!
Factors considered when calculating the potential discount
There are three factor used to calculate a score that will determine your savings.
Hard Breaking
Hard braking increases the risk of being involved in an accident. Your score will be impacted if you exhibit hard breaking often (more than 12km in 1 second).
Rapid Acceleration
Rapid acceleration also increases the risk of being in an accident. Your score will be impacted if you exhibit rapid acceleration often (more than 12km in 1 second).
Time of Day
The less your vehicle is used at night the more you can save. Driving at night (between 12 a.m. and 4 a.m.) increases the risk of being involved in an accident. Elements such as reduced visibility and fatigue make this time of day the riskiest.
Your premium will not increase because of the data used to calculate the discount.
Will the app work outside of the province?
Yes, the my Driving Discount app works throughout Canada and the United States.
When will I receive my personalized my Driving Discount?
The enrollment discount is removed on renewal and replaced with a personalized my Driving Discount of 0%-25% based on driving data collected during the 180-day assessment period.
Sign Up Today!
Give one of our brokers a call today to find out more about the my Driving Discount program!
1-855-475-0959