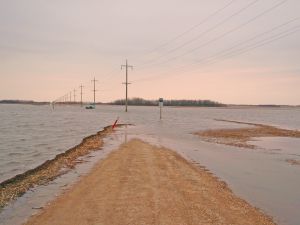 After a disaster strikes, returning to your home can be an emotional experience. Unfortunately, if you're not careful, it can also be a dangerous one. The disaster may have caused damages to your home that now present a safety hazard to you and your family. It is important that you properly inspect your home for potential hazards before you resume your life there.
Hazards to Look For
Natural gas. If you smell gas or hear a hissing sound, open a window and leave immediately. Alert the gas company as soon as possible. Do not smoke or make use of any other items that have an open flame inside a damage house unless you are sure there are no gas leaks or other flammable materials present.
Sparks and broken or frayed wires. Use a flashlight when first entering your home if you are unsure of the condition of your electrical system. Do not turn on any lights until you are sure they are safe to use. If you suspect damage to any part of your electrical system or if there is standing water in your home, turn off the electricity at the main fuse box if you can safely do so.
Roof, foundation and chimney cracks.

A close examination of your home's structural integrity is very important. If you feel that there is a chance for collapse, leave immediately.

Appliances.

If appliances are wet or appear to be damaged, turn off the electricity running to them at the main fuse box and then unplug them. Check that they, and your electrical system, work properly before plugging them back in.

Water and sewage systems.

If any pipes are damaged turn off your water at the main valve. Check with local authorities before using any water for cooking or cleaning as it may be contaminated. If you are supplied by your own well have a sample tested before use. Also, make sure sewer lines are intact before using toilers.

Food and other supplies.

Throw out all food and other perishable items that may have been contaminated. This is especially important when goods have come into contact with standing water.

Clean up hazardous materials.

Household chemicals, raw sewage and other hazardous substances that have spilled or leaked throughout your home need to be cleaned up as soon as possible. Make sure you take the proper care to protect yourself from the substance during this process.

Call your insurance agent.

Take pictures of damages before you begin cleanup and keep good records of repair and cleaning costs.