Ahhh... the lake! Now that summer's just around the corner (one might even say it's here already), lots of Alberta families are gearing up to take their boats out. And really, is there anything better than being stuck out on the water with your loved ones?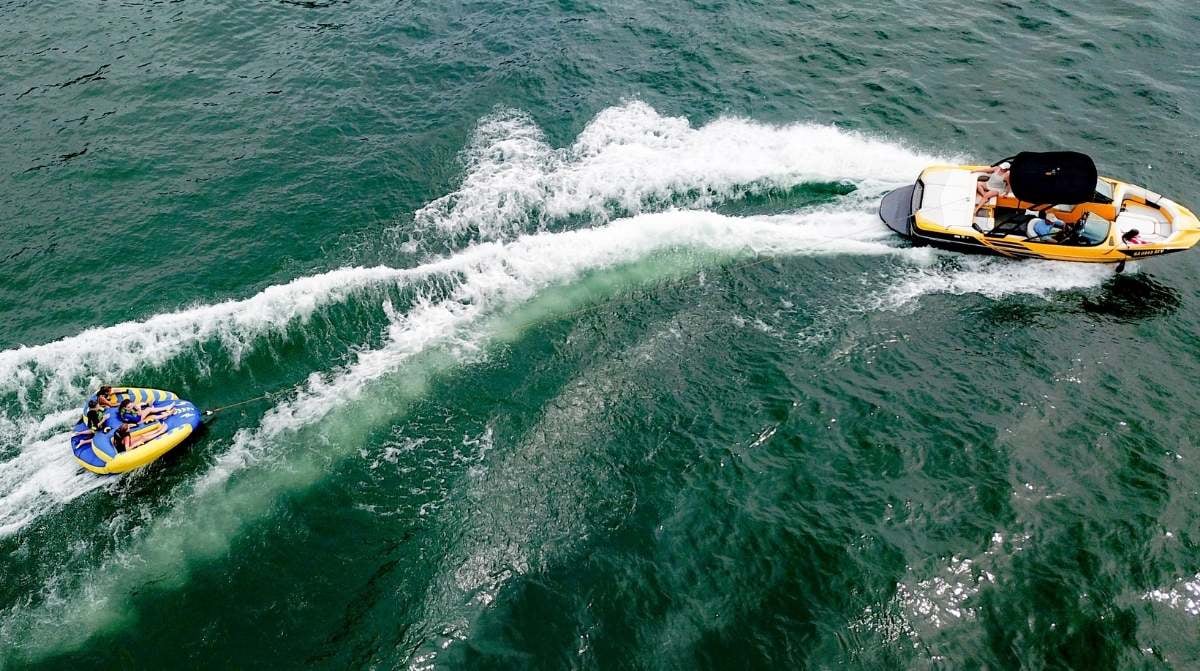 It's tough to say exactly what our summer will look like, but we can rest assured knowing there are some pretty awesome lakes in Alberta perfect for a boating getaway! Travel Alberta offers a wide range of boating and swimming destinations. We've picked out some of our personal boating favourites for you–here are the best places to go boating in Alberta:

Lake Minnewanka is a huge glacial lake found in Banff National Park, about 5km east of Banff's town. It's the only lake in the park that allows motorized boats, so it's the perfect place to go boating in Alberta! Though it's limited capacity, if you can get out there, it's beautiful. You can rent your own boat for the day from the Lake Minnewanka docks. Plus, the area offers so many other activities besides boating, including fishing, hiking, and mountain biking.

Sylvan Lake, a popular Alberta resort town, is just 18km west of Red Deer. It's the perfect location to take the boat out, with both Edmonton and Calgary less than 150km away. The lake also offers 2 boat launches. Tourism is Sylvan Lake's biggest draw, due to its well-developed waterfront. There are activities like outdoor waterslides, a marina with water sport rentals, swimming, golfing, hockey, fishing, and even an indoor BMX park! Local restaurants and shops are popular attractions featured along the waterfront. If you're looking for a great lake to go boating in Alberta, as well as other awesome stuff to fill your weekend, Sylvan Lake is the place for you.

Ghost Lake Provincial Recreation Area is a summer village on the Ghost Lake Reservoir near the Transalta Dam of the Bow River, west of Calgary. Its marina showcases 50 mooring balls for sailboats, 50 sheltered power boat slips, and 2 public boat launches, which makes it another perfect place to go boating in Alberta. Not only that, but its public boat launches can be used at no charge. The location is picturesque–a lake with a mountain view that's power boat accessible is a rare find in Alberta. If you live near Calgary, this is the best place to go boating for the afternoon.

Lake Newell is referred to as the warmest lake in Southern Alberta, yet seems to be one of the province's best kept secrets. The lake is just 14km south of the City of Brooks, and offers many summer activities for the area, including boating, swimming, waterskiing and wake surfing. Kinbrook Island Provincial Park & Campground is on the lake's East side, and features over 160 campsites. Lake Newell is also home to Lake Newell Resort, which includes a marina and boat launch. This is definitely one of the best lakes in Alberta for boating, especially if you love jumping off the boat into some inviting water!

In the prairies, many of the biggest, most inviting lakes are in the north. But taking a weekend trip to Lac La Biche, Cold Lake, or even further north can be quite the drive. Garner Lake is found in Garner Lake Provincial Park, just 2 hours northeast of Edmonton. The park showcases an abundance of wildlife, as well as northern pike walleye burbot and yellow perch–if fishing is up your alley. It's a great lake for boating, tubing, and waterskiing, though it can be a little busy during the peak of summer. Nonetheless, it's a great option for boating in Alberta, especially if you live further north.

Buffalo Lake is a great size, which means it's another lake in Northern Alberta perfect for boating. With nearly 100 square meters of water space, it's a favourite for boaters in the area. It's also been referred to as one of Alberta's best kept secrets! The lake features protected swimming areas, boat launches, and a campground if you'd like to make your stay a little longer. The lake is part of Rochon-Sands Provincial Park, and is also about 2 hours northeast of Edmonton. Burbot and northern pike are common, so it's another great spot to fish! But at the moment, pike are catch-and-release only.
There you have it! These are just a number of Alberta's lakes you can visit this summer, and there's something for everyone. Last, but most definitely not least, make sure your boat has the best possible insurance coverage. Visit our boat insurance page today to get started on a quote. That way, all you'll need to worry about this summer is picking your perfect boating destination!