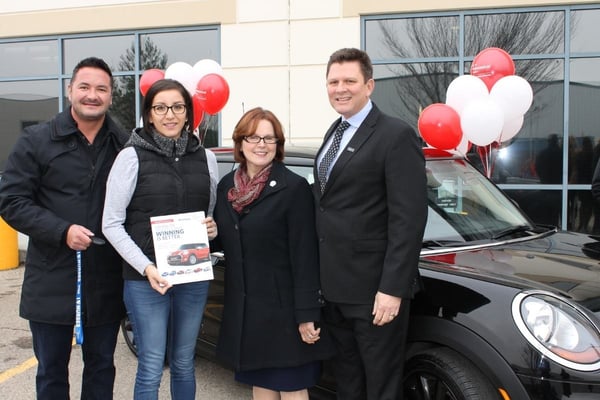 During a call from Armour Insurance and Economical Insurance last month, Sara's disbelief quickly turned into excitement as she was given the news that she was the winner of a brand new 2016 MINI Cooper.
Sara and her aunt were at a CLPNA conference when she walked by the Armour Insurance booth.
Sara Shaw told us about entering the competition. "We were walking by Armour Insurance and she (Sara's aunt) was entering and I was walking by and she was like Sara come and enter it's a free draw. And I was like no you never win those things anyways."
Sara never imagined at the time that she would become a Select Sweepstakes winner and win a brand New MINI Cooper!

"I didn't believe I had won!" said Sara. "It didn't take long to sink in. All my coworkers rejoiced with me. It was so exciting. Still is! I have a brand-new car!"
On November 2nd Sara Shaw, a home care nurse, was handed the keys to her new vehicle in Edmonton Alberta. She arrived in Edmonton, at Armour's head office, greeted by an excited crowd. Members of Armour Insurance, Economical Select, and CLPNA attended the presentation to congratulate Sara.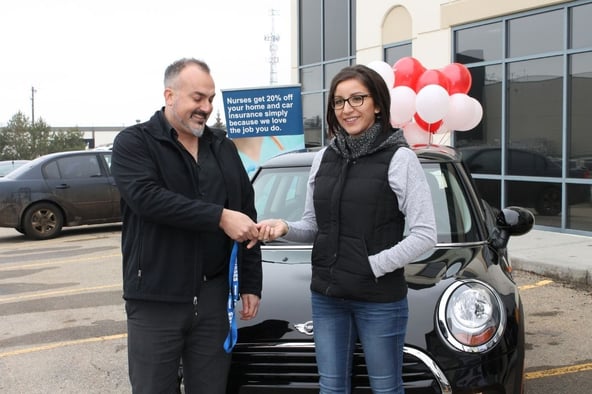 Rob Stevenson (Strategic Marketing Director at Armour Insurance) hands Sara Shaw the keys to her new MINI Cooper.
"We are overjoyed to have the opportunity to present Sara, a member of our CLPNA group, with a brand new 2016 MINI Cooper. We called Sara at work to announce her win and when she realized that she had just won a new car our entire office erupted in cheers. I will certainly remember this for a long time to come" said Rob Stevenson, Strategic Marketing Director at Armour Insurance.
Could You be the Next Big Winner?
If you are a member of any Armour Insurance group program, and have not entered the Select Sweepstakes Contest, contact Armour Insurance to have your name added to the draw. You still have a chance to win a Mercedes-Benz CLA, Buick Verano, Toyota Tacoma, or one of two gas cards.

The Select Sweepstakes campaign is run by Economical Select and 73 insurance brokers, including Armour Insurance, across Canada. The contest offers eligible group members the chance to win one of six vehicles as well as one of four $250 gas cards. This month was the first time that an Alberta resident has won a vehicle.
Contact Armour at 1-855-475-0959 to be entered and you could be our next big winner! For all our contests, giveaways, and promotions follow us on Facebook.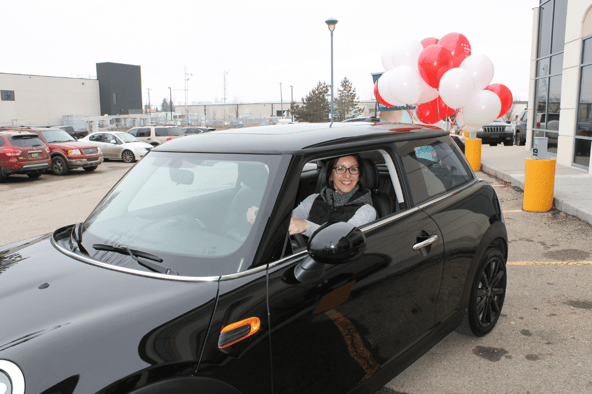 Sara Shaw driving off as the winner of a new MINI Cooper.