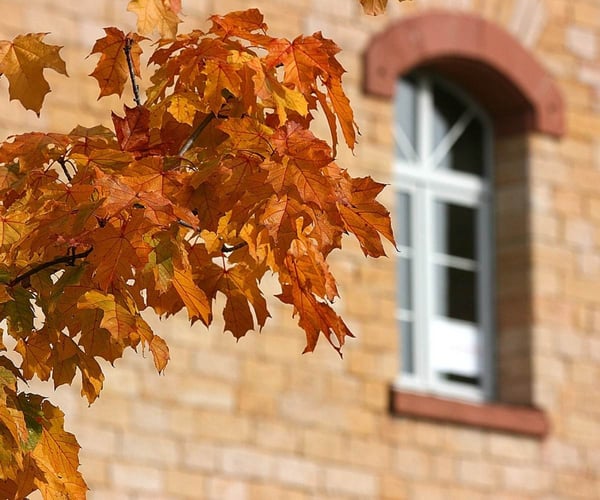 Fall is here and now is the perfect time to start preparing your home for winter. Regular home maintenance can help you avoid paying for major repairs. It can also reduce your number of homeowner insurance claims (an increase in claims can increase your insurance premiums).
Take care of these important home maintenance tasks to ensure your home is ready for winter.
1. Clean Out Gutters
Remove leaves and debris from your gutters to prevent clogging. Clogged gutters can cause damage to your home and are more likely to become damaged by rust and corrosion.
Gutters that are not properly cleared can cause damage to the exterior of a house and can cause water damage inside a home.
2. Check for Drafts
During the winter, cold air can enter your home through gaps in doors and windows. This can lead to higher heating bills as you will need to use more energy to maintain room temperatures. Openings can also allow water to get in and freeze causing cracks and mold buildup.
Feel for drafts around the edges of windows and doors and seal any that you find. Gaps can be filled with weather-stripping and caulk. For windows that are especially drafty, consider buying heavier or insulated curtains.
3. Inspect Your Roof
Inspect your home's roof and look for damaged, missing, or loose shingles. Search for damage around vents and chimneys.
Ice, rain, snow, wind, and rapidly changing temperatures can all cause substantial damage to roofs. Damaged roofs can cause leeks that can lead to expensive water damage.
4. Maintain Water-Based Appliances
Drain and disconnect garden hoses. Shut off exterior faucets, and store hoses in a dry place so that any remaining water won't freeze. It is important to take steps to ensure that outside faucets and irrigation systems don't freeze and burst.
Don't forget to drain your water heater once a year and pump your septic tank every 3-5 years. This will extend their life and stop leaks and sewage from backing up.
5. Clean Vents and Filters
Vents and filters that run from your dryer, air conditioner, heater, septic tank, or any other part of your home need to be maintained. Dirty or clogged vents and filters can cause problems. Test for leaks, check heating efficiency, and change the filters every few months.
Clogged filters make it difficult to keep your home at a comfortable temperature which can result in an increase to your utility bills. Lint accumulation in the screen of dryers can cause a fire. Ignoring the filter in your AC unit can lead to an early breakdown. Taking a few minutes and dollars to swap filters is much more cost efficiently than costly replacements.
Preform Fall Home Maintenance and Save
Preventative maintenance will save you money on expensive repairs and wasted energy costs. Properly maintaining your home also increases its value and appeal. When winter begins, make sure that you and your home will be ready.
Protect Your Home
Speak with a licensed insurance broker by calling Armor Insurance at 1-855-475-0959. Get your free home insurance quote by clicking below.
For great content and giveaways subscribe to our monthly newsletter