When you're in the market for a new to you vehicle, there are usually a handful of criteria that you use to make a purchase decision. Does it meet your needs? Can you afford it? Does it look how you want it to? Is it reliable? Is it safe? These are all important questions you should be asking before you make a vehicle purchase. Today we wanted to provide a few resources and ways on how you can answer three of the pressing questions you might have when shopping for a vehicle.
As far as aesthetics and functionality are concerned, those are mostly going to be based on your individual opinions. The following questions will help you with objective facts about vehicles.
What Are Three Questions You Should Ask When Shopping for a Vehicle?
Is this vehicle going to be reliable for me?
Is this vehicle going to be safe?
Am I going to be able to afford this vehicle?
How Do I Know If a Used Vehicle Will Be Reliable?
When purchasing a used vehicle, the question of reliability is usually top of mind. Will this vehicle leave me stranded? Am I going to get in this vehicle and start it on the first try, every time, for the foreseeable future? Both are good questions to ask before purchasing a vehicle.
A good resource that you can use for a used vehicle purchase is a web forum called Car Complaints. It is an online forum that lets drivers report issues that they have had while owning that type of vehicle. It is broken down by year, make, and model, which can be helpful in determining reliability of certain model years.
As an example, in 2020 I purchased a 2014 Subaru Legacy sedan. I was interested in a Subaru for the all-wheel-drive and the Legacy seemed to have many of the features I was looking for. After a quick look on Car Complaints, I saw that the 2014 model year had among the fewest complaints of any of the model years. The similarly priced 2013 and 2015 options had both more issues, or more serious issues that came with ownership.
While forums like Car Complaints aren't a perfect indicator of how reliable a vehicle will be, they can be a good place to start and get an idea of what it will cost. Getting a vehicle pre-purchase inspection from a registered mechanical technician can help you to identify existing problems with a vehicle prior to purchase.
Is it okay to purchase a vehicle with a salvage title?
This is a more difficult question to answer. Personally, I have exclusively owned salvage title vehicles. When I owned an older luxury vehicle with a salvage title, there were a few issues that arose as a part of being a salvage vehicle. These ended up being quite expensive and probably made purchasing a salvage vehicle a bad idea.
That being said, my Subaru Legacy needed to have a headlight and fog light replaced as a part of being a salvage. The parts ended up being less than $200 for brand new assemblies and around $100 to get them installed, which was quite reasonable.
Is it okay to get a salvage title vehicle? It really depends on your risk tolerance. Salvage vehicles could be a good way to save on the purchase price of a vehicle. It could also create a headache down the line for you.
Before you purchase any vehicle, you should invest in a Carfax and/or lien check. This will identify if the current owner has used the vehicle as collateral to secure a debt and the vehicle accident/ownership history. A Carfax is currently priced at $65.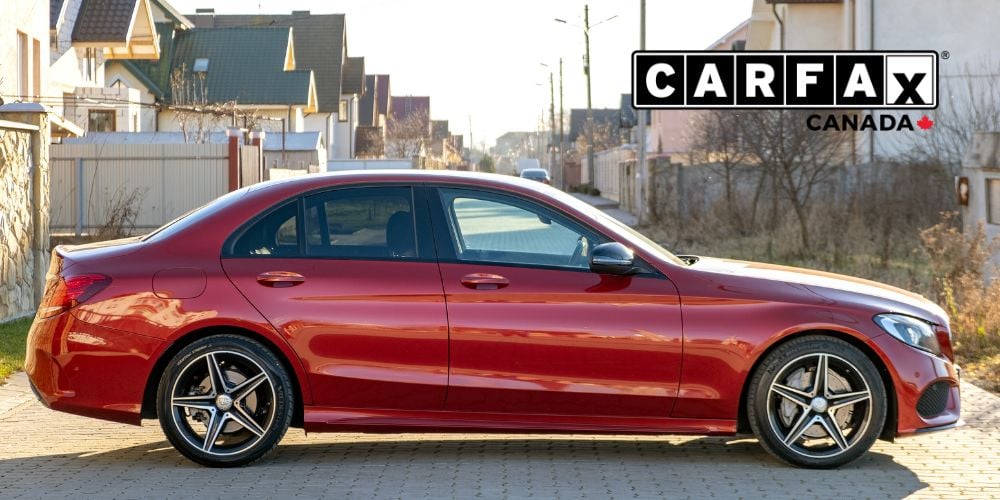 How Do I Know If the Used Vehicle I Am Looking to Purchase is Safe?
Safety of a vehicle is easier to quantify. Safety is usually rated based on the crash testing and how it performs on impact. A good resource to determine the vehicle you're considering purchasing is safe is the Insurance Institute for Highway Safety (IIHS). The IIHS has a great vehicle lookup tool to find the test results of the vehicle you're searching for.
Upon shopping for my Subaru, I checked the crash safety rating through IIHS. Their rating system is quite easy to understand.
G = Good

A = Acceptable

M = Marginal

P = Poor
With the my Subaru having hit the top category in all areas except for small overlap, it seemed to be a good fit from a safety standpoint. Few vehicles reach the Good category for small overlap crash test but it may be an important measure for you when purchasing a vehicle. A full guide to IIHS testing is available here.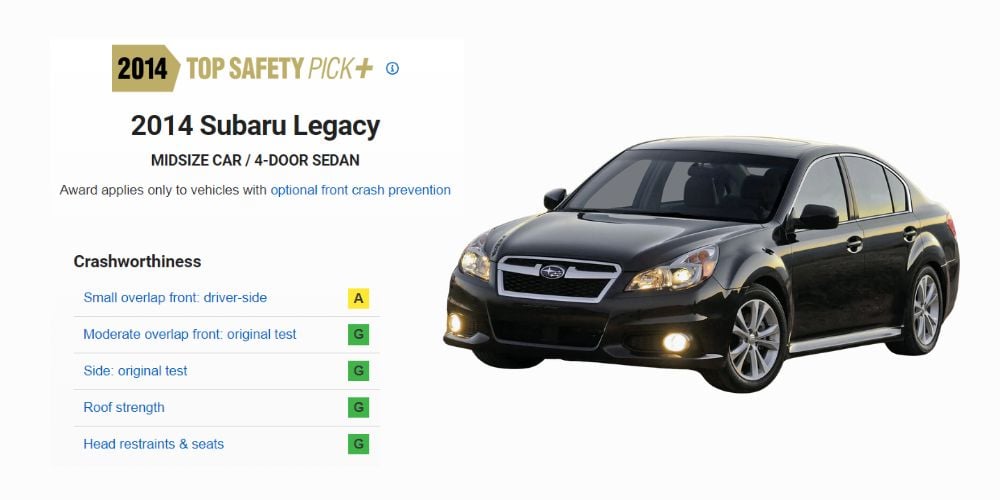 How Do I Know If I Can Afford This Used Vehicle?
When it comes to being able to afford a vehicle, it's about more than just the purchase cost of the vehicle. These are costs you'll want to consider when you're purchasing a new vehicle. Here are just few you should keep in mind:
Purchase costs
Potential repair costs
Fuel costs
Insurance costs
Purchase Costs
Outside of the actual purchase price of a vehicle, you can expect to have other expenses when purchasing a vehicle. This can include any of the following:
Taxes (5% of purchase through non-private sale)
Depending on where you purchase and what measure you take before purchase, you could be looking at an extra cost of at least a couple hundred dollars.
Potential Repair Costs
If you've had the vehicle inspected and determined that it will need repairs, often times you'll need to make those repairs prior to getting your vehicle insured. If you have unrepaired chips or cracks in your windshield, it is often an automatic fail. Note that vehicles twelve years and older require an insurance inspection before they can be insured and registered.
Keep any repair costs in mind prior to purchasing a vehicle.
Fuel Costs
Fuel costs can be an important factor when purchasing a used vehicle. Do some quick calculations on what your average daily commute looks like. Once you have a good idea of the distance you'll be driving, checkout the fuel economy of the vehicle here.
Do some quick estimates of how much you'll be spending/saving on your fuel costs based on the cost of fuel, your commute, and the fuel economy. For my scenario, I actually moved shortly after I made the purchase of my Subaru Legacy. My daily commute went from around 100km to only 40km and 13L/100km to 9.5L/100km. My fuel costs dropped from nearly $20/day to around $5.5/day to commute.
If my fuel costs had gone up by $15/day on the commute, I may have reconsidered my purchase.
Insurance Costs
Before you make a final purchase decision, there's one last person you should call: Your insurance agent or broker. You can get an insurance quote on a vehicle that you haven't yet purchased. If you call your broker they can run a quote for your to find out what kind of rate you can expect on the vehicle.
*Note that all financed vehicles will require full collision and comprehensive coverage on them. Have your financing documents available when insuring the vehicle.
If you'd like help with an insurance quote, we'd be happy to help.