In compliance with the new mandatory public health measures put in place by the Alberta Government this week Armour Insurance will be offering in person visits to our offices by appointment only for the time being. Our staff remains at full capacity and is available to provide all of our services over the phone and online.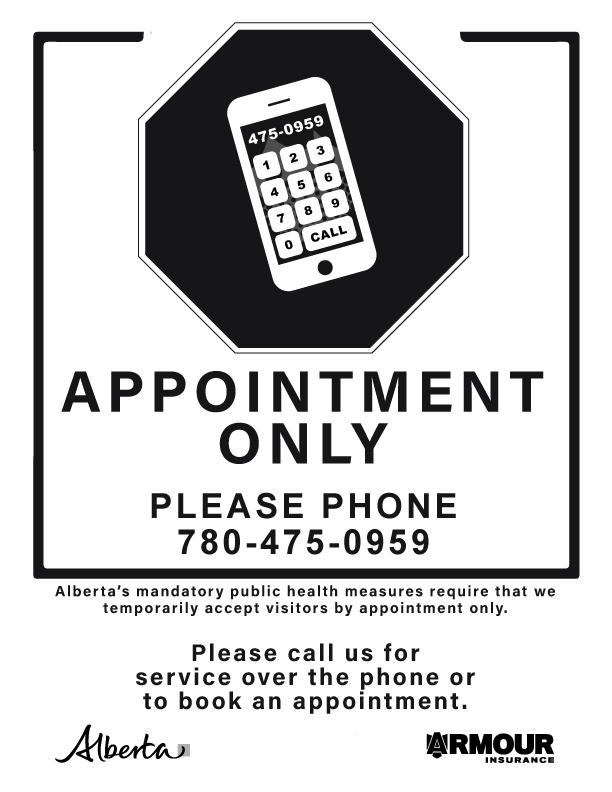 Please phone us at 1-855-475-0959 for service or to book an appointment.
In Premier Kenney's address on Wednesday he announced that all businesses offering professional services are to suspend walk-in traffic on Friday, November 27. Armour staff is available to handle any of your service requests over the phone, but if you would like to book an appointment to come into one of our offices you may do so by calling us at 1-855-475-0959. Please note that appointments are limited to single person, 1-on-1 interactions.
Also, at the provinces recommendation we have given our staff the option to work from home until the state of emergency has been lifted. Due to this we will have reduced capacity in some of our offices. Our Edmonton, Lethbridge and Lloydminster offices are accepting appointments while the Sherwood Park Armour Insurance is closed during these enhanced measures.
Thank you for your cooperation and understanding in helping us to comply with these new safety measures. Please do phone for service whenever possible as we are able to handle any request remotely and will have slightly stronger capacity on our phone lines.
Click here for more information on Alberta's enhanced public safety measures.