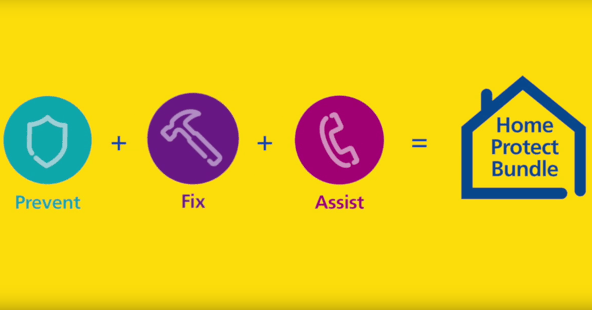 Aviva's Home Protect Bundle is a new product available to home and condo owners who have their insurance policy with Aviva Insurance Company of Canada. This cost saving value added package was created to help you decrease and prevent claims. It also offers a variety of assistance services from professionals in legal matters, health issues, and real estate.
Features of Home Protect Bundle
Aviva Home Protect Bundle has three important features which add another layer of protection to your home insurance. The three features are:
Claim Prevent:This feature provides up to $2,500 to install an improved loss prevention device. These devices include things such as a fire alarm or a security system. This will help prevent further claims resulting from the same cause.
Home Repair Assure:Repair minor issues before they create major damage and before they can cause a claim. This feature gives you access to a trusted network of local contractors and trade professionals.
Halo Assist:This feature provides you with access to a selection of unlimited telephone assistance services.
Legal assistance: Lawyers are available to advise you on issues such as property disputes, landlord and tenant relations, consumer problems, real estate transactions, and wills.
Health assistance: Health professionals are available to help you with any health concerns that you might have.
Mortgage and real estate assistance: Get professional advice about home purchases and mortgages.
Save Money With Home Protect Bundle
By bundling these services you save money! The entire bundle is available for an annual premium of $125. This is considerably less than it would cost to add Claim Prevent and Home Repair Assure to your Aviva policy individually and as an additional benefit Halo Assist is included too.
More Information on Aviva's Home Protect Bundle
For more information on Aviva's Home Protect Bundle, visit Aviva Canada Home Protect. Here you will also find more details about what is covered under Claim Protect, Home Repair Assure, and HALO Assist.
If you'd like to add Home Protect to your Aviva come or condo policy or start a new Aviva Policy with these features give us a call today!
1-855-475-0959