Crop Insurance for 2012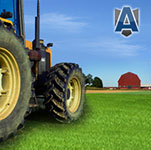 The snow is gone in most of Alberta, we are having rain showers to add moisture to the soil, and soon we will have crops sprouting throughout the province. These crops generate significant income throughout the farming community and regardless of the outlook in the Farmers Almanac this year, it only takes one storm to turn this into a significant loss.
Commercial businesses buy business income insurance protection in case their business has an insured loss -Business Insurance Overview. This protects them from income lost to their business while they rebuild.
Farmers have the same exposure to lost income should they lose a crop due to an insured peril. Insuring all your buildings, livestock and equipment is good risk management Farm Insurance.
Protect Your Investment
Crop and hail insurance protects the producer against reduction in yield caused by hail and/or fire. Insurance can be purchased up to the actual cash value of the crop and allow payment on acres damaged.
Farms make very large investments in buildings, equipment, and livestock. As plans are made for crop seeding in 2012 protecting your crop investment may be the best choice you make!
Your crop insurance policy becomes effective from 12:00 noon of the day following the date of application. Applications may be faxed to our office, called into our message manager, or postmarked at any post office. Policy coverage expires October 15th of the same year, or upon harvest of the crop.
Click here to find out how you can stay protected this season with Crop Hail Insurance from Armour.