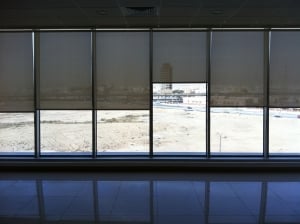 Unlike automobile Insurance you are not required to have building insurance if you own the building free and clear. By not buying insurance you are 'self-insuring' your building and and liability losses that may be associated with it.
By choosing to self-insure you are gambling that there will not be a claim. If there are no claims then you will save a lot of money. If you do have a claim will the money you saved be enough to cover your losses? If your building totally burned will you be able to rebuild and carry on without the benefit of Commercial Insurance?

Instead of not insuring at all you choose to insure for half the buildings value. This way if I have a partial loss at least that will be covered - right? Actually this thinking is wrong, wrong, wrong. Only part of the partial loss will be covered.
The lower the co-insurance percentage then the better it is for you the policy holder. An 80% co-insurance is much preferred to a 100% co-insurance. This is because the co-insurance percentage is a requirement of how much of the actual value must be insured without incurring a penalty.

If your building is valued $100,000 and you have a 90% co-insurance then you must insure a minimum of $90,000. If you do not and you have a claim then you will be penalized the difference between what you should have had insured and what you actually did have on the policy. The maximum you could be paid would be the limit of insurance shown on the declaratins page.

The only time that the co-insurance will not have an impact is when you have a total loss. But you will only be paid out to the insurance limit leaving you a shortfall to make up.
Consider a $1,000,000 building. The building has a 90% co-insurance clause. You choose to only insure $500,000. You will partipate on a percentage of any loss as follows. Did/Should times the loss or $500,000 / $900,000 times the loss. By under insuring the insurance company pays 5/9 of the loss and you will be responsible for 4/9. The 4/9 is the penalty for being underinsured. In a situation where the loss is $300,000 you would pay 4/9 times $300,000 or $133,333
If that building was destroyed by fire or tornado, you would only have $500,000 at best to use towards rebuilding.

Most commercial polices come with a co-insurance clause. It is very important to know the percentage and the possible impact on your loss.
Part of your risk management is knowing how the limits you choose affect any claim. You also need to be sure that you have correctly advised your insurance company of what fire protection and safety measures you have in place for your building and how employees will respond in an emergency.

While deciding to buy insurance and how much insurance is your decision understanding the implications in the loss is very important. Most insurance professionals will recommend insuring to value so you are able to maintain the financial position you are in now after the loss.