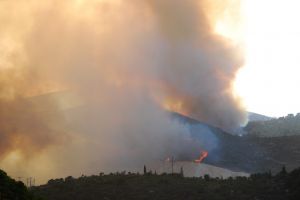 With all the talk about the Mayan calendar these days, it seems like a good time to look at what trends have been going on in the last year with regards to catastrophies and how it relates to our coverage and premiums.
The Canadian Underwriter Magazine recently compiled a report covering the financial impact of catastrophies and specifically notes increased losses in Alberta.
Insured losses for Canadian catastrophes reach $1.5 billion
Canadian insurers saw total insured losses soar to $1.5 billion in 2011 as a result of catastrophes.
This is a substantial increase from previous years. In 2010 losses due to catastrophy only counted for $860 million, almost half of what we saw last year.
This increase was seen around the world:
$13 billion - New Zealand earthquake
$36 billion - Japan earthquake and tsunami
$11 billion - Thailand flooding
Canada and Alberta also saw its fair share of catastrophes, including the wildfire that leveled much of Slave Lake Alberta -Helping Out In Slave Lake, and extensive tornado damage in Goderich, Ontario.
There were 7 catostrophic events in Canada last year alone, up from 5 in 2010. Will we see this trend continue when the reports for 2012 come out? Only time will tell.
Top 10 Insurance Catastrophies in 2011 (amounts in $USD billion)
March 11, 2011 Japan Earthquake/Tsunami $35
February 22, 2011 New Zealand Earthquake $12
July 27, 2011 Thailand Flood $8
April 22, 2011 Alabama, US Severe Storms/Toronados $7.3
May 20, 2011 Missouri, US Severe Storms/Toronados $6.7
August 22, 2011 US Hurricane Irene $4.9
January 9, 2011 Austrailia Floods $2.3
April 3, 2011 US Storms $2
April 8, 2011 US Storms $1.5
April 14, 2011 US Storms $1.4
When a catastrophic loss occurs it often takes a large part of our insurance premium to help those who are impacted by these devastating events. While insurance is there to help us return to our pre-loss financial position, catastrophes are taking more of the premium dollars each year.
What does this mean for the average insured individual?
As losses increase more dollars have to go into the pot to cover them and overall premiums could start to increase. Up until now, due to strong competition between companies, we have seen stable rates for most insurance customers, but if losses continue to grow it will be increasingly difficult for companies to maintain rates. When insurance rates start to harden (increase), a good claims record and a good history with your insurer will help keep your rates stable in the marketplace.
Build a good history and enjoy a stable, affordable premium with Armour. Click here for an insurance quote.