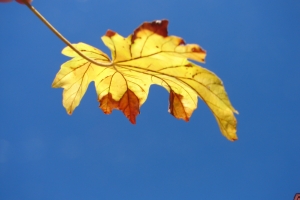 The leaves have started to turn and the plants have all started to droop. It's a clear indication that it's time to do the annual fall yard cleanup.There's no better insurance for your garden and lawn that next spring will be a good growing season (other than predictable spring weather but that's never going to happen!)
There are a few basic maintenance tips you can follow, even if you're not a yard fanatic, that will leave your yard ready for the onslaught of cold Alberta days and impossibly deep snow.
Garden
September is the best time for that one final pruning and trimming of your trees and shrubs. Fall pruning ensures that they wont be overgrown in the spring. This is especially important for shrubs or trees which tend to grow uncontrollably as soon as the snow melts - like lilacs.
Your flower garden will also most likely be in need of one final weeding. clearing out all of those pesky interlopers will give you a fresh start in the spring. While you're in there, make sure you clear out all of your annuals as well.
Once you've read the weather forecast and you're certain the frost is on it's way, harvest all of the veggies and fruit you have left in your garden and till away! Mixing in some compost in the fall is a great way to give the soil an added boost during the long winter months.
Lawn
Aerating your lawn and fertilizing with a fall fertilizer will help get much needed oxygen and nutrients down to the roots. You will want to get the rake out as well and get all of the leaves off of your lawn before they get buried under snow.
Give your grass one last pass with the mower as well, taking care not to cut the grass too short.
Yard Chores
Chances are, your gutters are in need of a good cleaning after the spring and summer winds and storms. Cleaning your eaves before the colder weather sets in can help prevent leaks and problems during the winters. If you encounter packed debris, try running water from your hose to loosen it.
Get your deck washed - a pressure washer will do the trick. If you don't have one a simple blast with the hose will do. After it's dried, this is the time to re-seal your deck with weather resistent stain to protect it from the elements.
Alberta winters can be long and unforgiving. Make sure your yard is prepared!
Want more information? Call us today!