Connect with Rob on Google+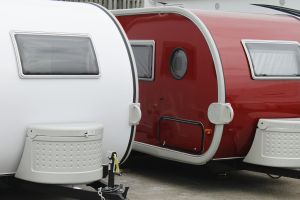 Pulling a trailer is not as easy as it looks. Just like your first time behind the wheel, there are a number of things that drivers need to become familiar with and practice before they are ready for a long haul.
Make sure your car insurance and recreational vehicle insurance are in order - you wouldn't want a mishap to cost you big bucks.
The first thing that you need to do is check your vehicles owner's manual to make sure that you have the torque and towing capacity to haul the specific trailer. Over-exerting your vehicle could lead to serious damage, costly repairs and reduce its longevity.
"If you have never pulled a trailer you need to go to an open parking lot and practice backing up and making turns," says Achiel Gossens, insurance expert with Aviva Canada. "A large number of claims come from first time trailer users. So, talk to your broker about coverage when pulling a trailer. You want to make sure you have the right coverage in place before going out on the road, especially if you do not have a lot of experience."
Goosens also offers a number of tips for drivers that have minimal experience pulling a trailer:
Adjust your stoppage distance as you will need more room to stop.
Make sure your mirrors are adjusted properly so you can see around the trailer.
Pay particular attention to maximum clearances on roadways and under bridges.
It will take longer to accelerate, so be conscious of this when trying to overtake vehicles and making lane changes.
Leave more room when making turns, especially when turning right.
No more drive-thru's – you will have get out of your vehicle to get a coffee.
Driving with a trailer requires a whole new set of driving techniques. Never assume that you can handle it without a little practice first or you could end up making an RV insurance claim that could have been avoided.
If you have questions about your insurance policy or need to secure RV insurance, please fill out our online quote form. Or call us today at 1-855-475-0959.
Article by: Aviva Canada, an Armour partner