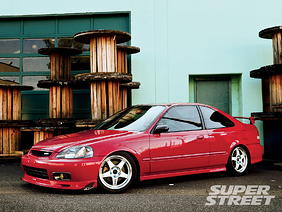 The Insurance Board of Canada (IBC) has released it's annual list of the Most Stolen Vehicles for Canada in 2012.
Honda's 2000 Civic SI is hitting the number one spot this year. This car is popular among younger drivers and because of the current high demand for parts on this vehicle, it's easier to strip down and resell than some of the other choices out there for theifs.
And Canada's top 10 most frequently stolen vehicles in 2012 are:
2000 HONDA CIVIC SiR 2DR
1999 HONDA CIVIC SiR 2DR
2006 CHEVROLET TRAILBLAZER SS 4DR 4WD
2007 FORD F350 SD 4WD PU
2005 CADILLAC ESCALADE 4DR AWD
2006 FORD F350 SD 4WD PU
2002 CADILLAC ESCALADE 4DR 4WD
2005 FORD F350 SD 4WD PU
2004 FORD F350 SD 4WD PU
1999 ACURA INTEGRA 2DR
The IBC offers these tips for consumers to help prevent your car from making it onto the 2013 list:
Don't leave your vehicle running unattended
Roll up your car windows, lock the doors, protect your keys.
Park in well-lit areas.
Put valuables and packages in the trunk - out of sight.
Use your garage, if you have one, and park your car inside.