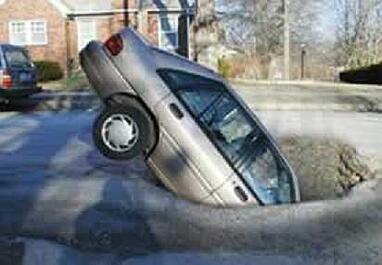 Crews are feverishly patching up roads after what might be Edmonton's worst year for potholes yet. Hopefully your car wasn't damaged in the mayhem, but if it was, the city might pay for your damages.
If you were injured or your car was truely damaged as the result of a pothole you may want to download your "Statement of Damage or Injury Claim Form" from the City of Edmonton website. sKeep in mind that the city reviews these claims thouroughly and does not awards damages to all cases.
In 2012 there were a total of 128 pothole claims reported to the city of Edmonton, but only 23 of these were approved and paid, resulting in a total of $21,000. I'm betting that the pothole department will be a little busier this year!
Pothole Claim Conditions
Claims must be reported within 30 days of the date of incident.
The City is liable only if it knew, or ought to have known, of the state of disrepair.
The City is not liable for damage caused by a system of inspection or the manner in which the inspections were performed.
The City is not liable for damage caused by a system of maintenance or the manner in which the maintenance is to be performed.
The City is not liable if it can prove it took reasonable steps to prevent the disrepair from happening.
The character of the road and the area of the city in which it is located are both factors that are to be used in establishing the reasonableness standard.
There is some accountability on drivers to watch where they are driving to avoid potholes as long as this can be done safely.
Get more information on the City of Edmonton's Pothole Damage Claims page.
More Alberta Pothole Information