A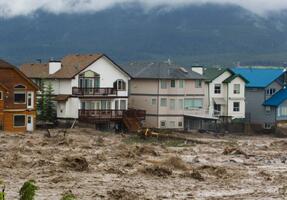 s a response to the continued severe weather Canada is experiencing, Intact Insurance released a notice to brokers outlining changes to their After Loss Underwriting Practices. The flooding in Southern Alberta this summer was noted as particularily devastating, affecting thousands of people in many Alberta communities.
"To ensure we are able to continue providing a sustainable product for our customers, effective September 1, 2013 we are making changes to our after loss underwriting practices on risks affected by the Southern Alberta flood event in June 2013."
These changes are said to be interim measures that will adress the Alberta flood victims only. The bullentin states that Intact's "property underwriting criteria and product are currently under review" and that we can expect more changes in the near future.
All of this compes at a time of tremendous strain for insurance companies operating in Alberta and most other parts of the world. At this time companies must act fast to ensure they keep a strong balance between remaining sustainable and offering customers the best possible protection they can.
Who Do These Changes Affect?
The changes only affect Intact Insurance policy holders who were impacted by the June 2013 Southern Alberta flood. Those that were affected will be notified by their broker or Intact claims representative.
The impacted areas are within flood zones, flood ways, flood fringes and overland flooding identified using Government of Alberta data. View the Alberta Environment and Sustainable Resource Development's flood hazard mapping system here. (zoom into Calgary and area to see detailed mappings of the different flood zones)
Policy distribution by flood zones:
1% of homeowner policies
4% of condo policies
3% of tenant policies
What Does this Mean for Policy Holders
Depending on a number of factors policy holders can expect to see changes in a number of areas. These changes are applied to policies based on factors such as:
Whether or not the property is located in a flood zone
The type of flood zone the policy holder lives in
Number of claims/losses reported during the June flood
These properties could see changes to limits in coverages and deductables. In most cases, if preventative measures were taken, such as the installation of a back water valve or alarmed sump pump with battery backup, the Water Escape/Back-up limits will be greater.
"We know there are many customers who are still determining their next steps" Intact says. Some customers intend on relocating and some will stay and rebuild. Each case will be different and dealt with on an individual basis.
Find Out More
If you were affected by the floods, live in the area that was affected or are considering moving to one of these areas, you may want to get more information about how these changes affect you. Use these methods to learn more about how you might be affected: