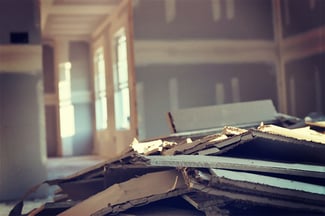 Between picking out tile and choosing paint colours, speaking with your home insurance broker doesn't usually come up when planning renovations to your home. Sure, you don't need to update your home insurance policy every time you change the hardware on your kitchen cabinets, but there are some projects where your broker is going to be your best friend.
What Could Happen?
Worst case scenario? Your renovations could void your insurance. Your home insurance policy has a clause called "Material Change" that reads similar to the following:
"Any change material to the risk and within the control and knowledge of the Insured voids the contract as to the part affected thereby, unless the change is promptly notified in writing to the Insurer or the local agent."
This means that if your renovation results in Material Change to your property and you don't alert your insurance broker, you may be voiding your policy.
Here are the top 6 ways that renovations can void your home insurance:
Damage caused during renovations may not be covered.
Damage that occurs after the renovations are complete, but due to worker error that occured during renovations may not be covered.
Value or living space that you've added to your home may not be covered.
If a worker is injured on your property during renovations you may not have liability coverage for that.
If you are not able to live in your home while work is underway you insurance policy may be invalid during that time.
If your renovations involve structural changes or periods of exposed walls, plumbing or electrical wires your home may be classified as "under construction" and not covered by a your standard property insurance.
Informing your broker of your plans to renovate your home will give them the opportunity to explain potentional pitfalls to you. They will be able to provide you with insight to help stay within your policy terms and minimize your risk during and after your renovations.
Contractor vs. DIY
If you are hiring a contractor to perform your renovations, always ensure that they are properly insured. If they make mistakes or cause damage to your property this insurance should ensure that they can rectify the problems.
Your contractor should have a certificate of insurance for your property. Asking them to see this will ensure that claims can be properly covered by their insurance rather than yours.
Protect Your Investment
Renovating your home could significantly increase the value of your home and if you're adding value you're gonna want to make sure that value is protected. If you're planning on, in the middle of or have completed a renovation without speaking to your insurance broker, call them today to ensure that you're always fully protected.
Learn more about
home insurance
here. Or phone your insurance broker today!
1-855-475-0959