Getting car insurance can be a bit of a chore, but it doesn't have to be! By using a brokerage like Armour Insurance, we can shop Canada's top insurance markets to find you the best possible price for your coverage. Before we get you set up with a quote, we'll need a little information from you first.
These are the five things you need to have or know before you get a car insurance quote:
The type of coverage you're looking for
Your vehicle information
Conviction and accident history
Driver's abstract or jurisdiction information
Annual and daily commute distance
Coverage Information
Having a basic understanding of what type of coverage you're looking for can help speed up quotation process. For car insurance, you have three primary types of coverage.
We have full guides on each of these types of car insurance available. Note, that if your vehicle is financed, you require full collision and comprehensive insurance coverage on your vehicle. If you're getting a quotation on a financed vehicle, you'll need to have your bill of sale and financing information available.
Vehicle Information
Naturally, if you're insuring a vehicle, you'll need to know the specifications of the vehicle. You'll need to have the year, make, model, and possibly the engine size available to you. One step better is to have your VIN or vehicle identification number. You can usually find your VIN on a sticker in the driver side door jamb or on your vehicle's windshield, near the drivers side wiper blade. Diagram available below.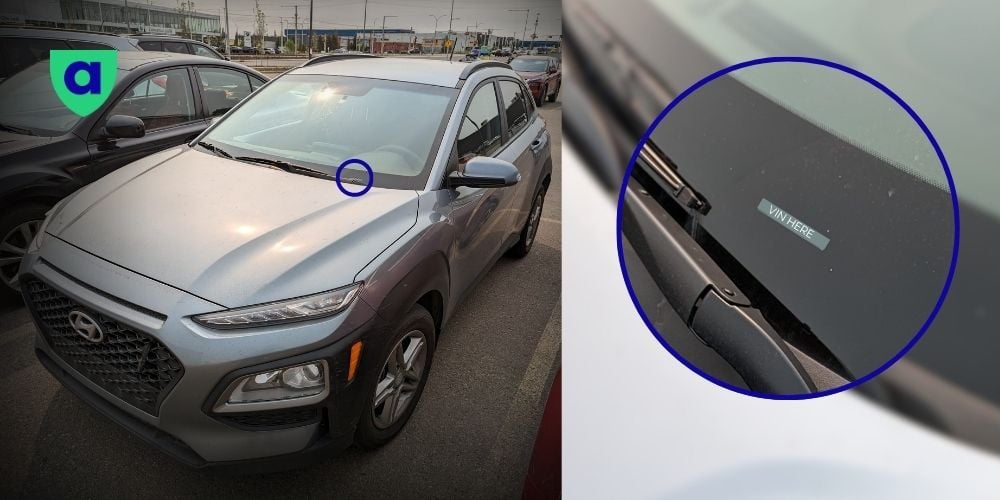 Your VIN should also be available on your bill of sale, existing insurance pink card, and vehicle registration.
Conviction and Accident History
In order to get you an accurate quote on your car insurance we'll need to know about your driving history. If you're getting a quote for another person (child, spouse, etc.), you'll need to have a full account of their record. Driving convictions are any tickets where you were pulled over by the police. You need to disclose any convictions you've had in the previous three years. If you have been in any kind of accident over the previous six years, you should let your broker know, even if you were found to be not-at-fault.
If you do not disclose accidents or convictions, it will result in a higher premium than the one that was quoted. It could even result in cancellation for misrepresentation. If you get cancelled for misrepresentation, it becomes incredibly challenging to regain auto insurance.
Driver's Abstract or Jurisdiction History
A drivers abstract can be a helpful tool to ensure your driving record is accurate. While a brokerage can sometimes pull your driver's abstract, it is usually done after the policy is issued. If your abstract comes in with different reporting than what you told your broker, then your premiums will increase, or you could be at risk of cancellation. A driver's abstract costs less than $25 at any registry office and can ensure you get the most accurate quote possible. Abstracts are for driver's with their driving and insurance history in Alberta.
You may also want to ask your current insurance provider for a claims experience letter. A claims experience letter shows your insurance claims history and policy effective dates. While a driver's abstract checks your driving record, a claims experience record checks your insurance record.
For driver's that are coming from out of province or out of country, getting your jurisdiction history can help you get rated as a driver with more experience (based on your historical driving record). If you're new to Alberta, you can get your jurisdiction history from your previous province or country's governmental motor vehicle agency. You can also usually get a claims experience letter or equivalent documentation from your in previous insurance company.
Commute Distance
One of the factors that goes into assessing risk factors is your daily and annual commute distance. Before you talk to your insurance agent, pull up Google or Apple maps and do a quick calculation of your daily commute. Consider how far away your work or school is, if you're picking someone up and/or dropping them off, and the distance to the grocery store.
As an employee of Armour Insurance, I work in our Edmonton office at 5750 75st NW. Since I live on the Southwest end of Edmonton, my commute is about 15km each way. Depending on the route I take to work, my daily commute is about 40km. I also usually take a couple of road trips and weekend trips every year which equates to about 4,000km annually. In total my annual commute is around 14,000km-16,000km. In Alberta, 14,000km-20,000km annually is a fairly average driving distance.
It's good to have a general idea of how much your daily and annual commute is before you talk to an agent, that way you're not scrambling to make the calculation on the fly. Drivers who spend less time on the road are statistically less likely to be in an accident, which can result in lower car insurance premiums.
Conclusion
Before you call an insurance broker, it's a good idea to do a little bit of preparation. By pulling your driving record and insurance history, you can ensure your broker is working with all the necessary information for an accurate quote. Knowing your vehicle information or VIN and your estimated daily commute limit can help save you time. One of the most important steps to getting an auto insurance quote is transparency. We do our best to provide accurate and friendly service to our clients. If you're transparent with our team, it allows us work even more effectively for you.
If you're looking for an auto insurance quote, we'd be happy to help.