Purchasing home and life insurance is a no-brainer. But what about taking the proper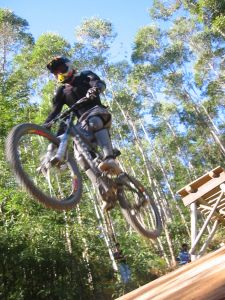 precautions to ensure that you hopefully won't need to make claims? The weather is right for cycling - are you wearing your helmet?
We make our kids wear helmets yet many adults choose not to wear them. Helmet wearing may prevent damaging your brain, and disabilities, should an unfiortunate incident occur. The Canadian Institute for Health Information says that the highest injury and dealth rates for cyclists is children under 15 years, but that doesn't mean that adults are immune to cycling related head injuries. Helmet useage reduces serious head injury 60% to 88%.
Here are some tips from the Insurance Institute of Canada:
9 Tips for Buying or Using a Helmet for Children or Adults:
Make sure there is a safety sticker inside (look for CSA, ASTM, CPSC or SNELL).
There should not be any decorations, paint or stickers on the helmet.
There should not be any cracks, dents or other damage.
Pads should touch the head at the front, sides, back and top.
No more than two fingers should fit between the wearer's eyebrows and the helmet.
The V-strap must fit tightly under each earlobe.
Only one finger should fit under the chin strap.
Never wear a hat under a helmet.
Never wear a high ponytail with a helmet.
There are two basic types of helmets: single-impact helmets ("crash helmets") and multiple-impact helmets. Bike helmets are crash helmets, designed to protect your head against a single hard fall. Multiple-impact helmets, such as hockey helmets, are designed to withstand several falls. The main difference is the type of foam used in the core of the helmet.
Know which type of headgear to wear for different activities:
| | |
| --- | --- |
| Sport: | Helmet Type to Use: |
| Cycling/scootering | Bike helmet |
| Skateboarding | Skateboard helmet |
| In-line skating | Skateboard or bike helmet |
| Sledding | Ski or hockey helmet |
| Playing hockey | Hockey helmet |
| Downhill skiing | Ski helmet |
| Snowboarding | Ski helmet |
| Ice skating | Hockey helmet |
Remember: head injuries can cause long-term disabilities and impairments. Wearing a helmet is an easy way to help prevent head injuries. For more information, go to www.thinkfirst.ca or www.safekidscanada.ca.