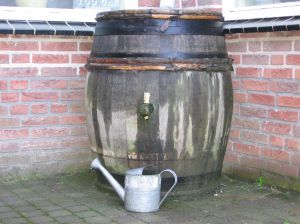 We all want to lower our Home Insurance premiums. The main driver of increased rates for home insurance is no longer fire damage; it's water damage. What can we do to keep home insurance rates down and reduce water damage claims?
Less water should mean less water damage claims and that is the thinking behind a new study released June 1, 2012 by the Insurance Bureau of Canada. Rain Barrels - what if all have rain barrels to collect water and keep the water away from our homes and out of the storm sewers? A great Home Insurance Tip, to be sure!
Here is an excerpt from the article about the rain barrel study:
The Wingham Rain Barrel Study began with 1,000 rain barrels, one for each homeowner. In the past, the peak flow through Wingham's storm water system and sewage treatment plant has exceeded capacity during major storms.
"IBC found that rain barrels, if emptied regularly, could divert 4.5-million litres of rainwater runoff away from a municipality's sewer system and out of homes, which is great news," said Ralph Palumbo, vice president of Ontario at IBC.
"But research always takes interesting twists," he added. "We also learned that people don't like to empty their rain barrels. And really, a full rain barrel might as well not even be there."
The study showed that in the process of installing the barrels, an impressive 72% of Wingham's downspouts were disconnected from the storm and sanitary sewer system, providing immediate relief. Even during heavy rains with direct downspouts disconnected and rain barrels in use, Wingham remained within its storm system capacity.
Water damage insurance claims have soared to $1.7 billion annually in Canada, surpassing fire as the leading cause of damage to homes. The increase in water damage and severe weather spurred IBC to investigate ways to help communities deal with excess water.
So not only can rain barrels keep your water bills lowered (use that excess water in your gardens!) they may also keep your home high and dry this rainy season. It may be time for a trip to the loca hardware store to pick one up - just remember to empty it regularly and you'll be happy you got one!
For more information on your Home Insurance premiums, call us today.