Road trips are par for the course in the summer, so stone chips and glass repair are part of life as a vehicle and carinsurance owner.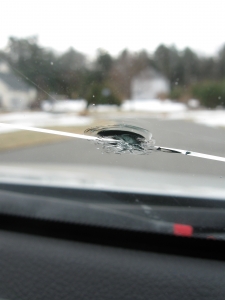 Windshields get chipped and cracked all the time. While stone chips often occur at the most inopportune times, they cannot be neglected and should be attended to in short order.
Even though it may seem like a minor chip, small stone chips can quickly develop into a costly repair job. Chips grow when pressure is placed on your windshield. Pressure can come from a variety of sources, even minor sources of pressure such as taking your car though the car wash or when changes in temperature occur.
And, once they grow into a crack, they can no longer be fixed and your windshield will need to be replaced.
"Most insurance policies will cover the cost of stone chip repairs without impact to your policy rate," said Achiel Goossens, insurance expert with Aviva Canada. "So people don't need to be afraid to contact their insurance company if they require a stone chip repair."
Being proactive and repairing a chip in your windshield can save drivers a significant amount of money. A windshield replacement can cost anywhere from a couple hundred to $1500. Fast action could save you hundreds of dollars.
A cracked windshield is also a safety hazard. If the glass is cracked it could break and impact your ability to drive safely. What most people don't realize is that your windshield is part of the structural framework of the vehicle. A cracked windshield has a greater chance of shattering or causing an accident.
Goossens suggests taking the following steps if you notice a stone chip in your windshield:
Contact a reputable and licensed supplier for glass repair. Many have mobile services and they will come to you.
Talk to your insurance company and find out if the repair is covered.
Be aware of insurance fraud scams. Never give your insurance information to anything less than a reputable repair shop with a long standing presence. Temporary repair stations should be avoided.
By being proactive and attending to your stone chip right away, you'll save money, be a safer driver and keep the inconvenience to a small repair job.
For more information on car insurance and windshield repair, call Armour Insurance today.
Article source: Aviva Canada, an Armour partner.