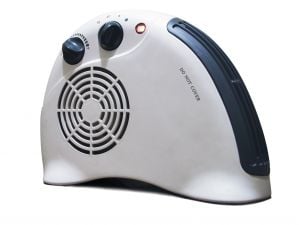 A fire in Edmonton, Alberta in February that caused the death of one man was discovered to have started because of a space heater the man was using in his garage.
Supplemental heating, such as space heaters, is the leading cause of home fires from December through February, but because the winter weather has lingered so long, space heater fires are still popping up all over Canada. If you are relying on space heaters for some additional warmth this spring, keep the following recommendations in mind:
Do not use space heaters to warm bedding, cook food, thaw pipes or dry clothing. These tasks can present major fire and burn risks.
Keep any items that could potentially be a source of fire at least 1 metre away from a space heater. This includes clothing, drapes and bedding.
Turn off space heaters when you leave the room or go to sleep.
Supervise children and pets around space heaters to prevent burns.
Check for frayed insulation, broken wires and overheating on electrical space heaters. If you notice any of these problems, have the unit serviced immediately.

Avoid using extension cords with space heaters. If you must do so, make sure that the cord is the right gauge and type for the heater.