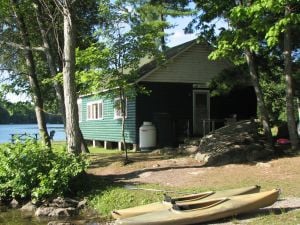 Summer is finally in full swing! This time of year, people across the country are spending their weekends relaxing by the lake, and getting back to nature at their cabins and vacation properties. These vacation properties hold some great memories and have a lot of sentimental value for those who use them, but they can also be more at risk for theft and other perils.

So what do you have to do to make sure you're vacation property is covered in the event of a loss or damage to your property? Does your regular home insurance policy cover this property as well?
It Depends...
Like the answer to most things in life, it depends on whether or not you've added coverage for a second property to your home insurance policy. If you haven't given your insurance broker a full description of your lake property, and haven't asked for it to be added, you probably don't have coverage.
This means that your buildings may not be insured, your belongings may not be protected from theft and you may not be covered for liability in the event that anyone gets injured while on your property. It's never safe to assume that anything at a second property you own is insured under your primary home insurance policy, unless you've request that your broker add coverage.
How Do I Make Sure My Vacation Property is Insured
There are two ways to find out if you have valid insurance on a property you own:
Check your Home Insurance Policy
Check your homeowners insurance policy, and most recent renewal (you should receive a renewal once a year). If either of these documents show the address or legal land description of your second property you should have at least some coverage. Read your policy further to find out what coverages and extensions you have.
Call Your Broker (Recommended)
If you have any doubt at all, Call Your Broker, that's what they're there for. When you call your insurance broker, here's what to say: "I have a second property at [Address], is it covered under my current home insurance policy?"
If you're with Armour Insurance, or want a better price ;) you can call us at 1-855-475-0959
Have fun this summer and make sure you double check your policies to be sure that you have coverage on all of your properties, vehicles, boats and ATV's. If you need help, don't hesitate to call one of the Armour service experts at 1-855-475-0959 we're always happy to help!