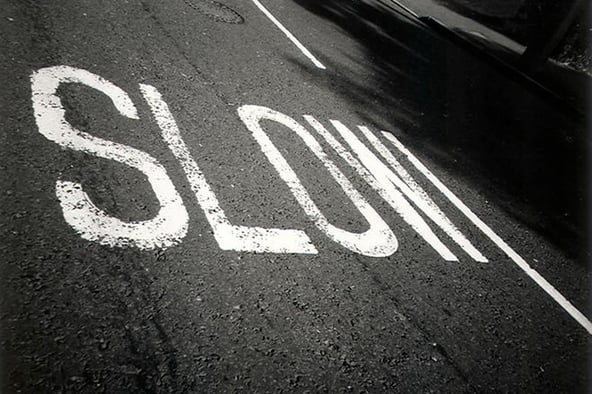 It can certainly be frustrating when you get pinned in behind slower moving vehicles driving shoulder to shoulder down the QE2. The fact is that sometimes life in the fast lane isn't all that fast on Alberta roads, but what do the Alberta Traffic Laws say about this. We took a closer look at the Alberta Traffic Safety Act to uncover some Rules of the Road when it comes to slow moving vehicles.
What is a Slow Moving Vehicle
In the "Use of Highway and Rules of the Road Regulation" a slow moving vehicle is defined as a vehicle "on a highway at a speed that is less than the normal speed of the traffic on the highway". The slowness of the vehicle is relative to the general speed of the flow of traffic, as road conditions may warrant slower speeds. This ambiguity makes this traffic law difficult to enforce and even a little difficult to interpret. Note that this law indicates that it only applies to vehicles being driven on the highway.
What the Law Says
According to the act, slow moving vehicles must remain in the right lane when available or drive "as close as practicable to the right edge of the roadway". The only times where this rule does not apply is when the slow moving vehicle is either:
passing another vehicle
preparing for a left turn off of the highway
There is also mention that if a traffic control device or sign indicates otherwise, that should take precidense over the preceding statements.
Keep in mind that, the way this is worded, this only applies to traffic on highways. At the time of writing we weren't able to find wording pertaining to slow moving vehicles on city streets or freeways. If you find any information on city streets, please let us know in the comments below.
If you're looking for Auto Insurance on your car or truck, give us a call at 1-855-475-0959. We'll run a quote with Western Canada's top insurance companies and give you the best price!