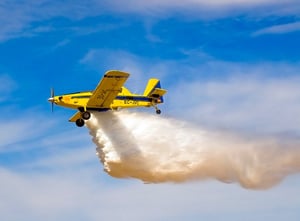 As forest fires ravage Fort McMurray and residents remain under evacuation notice, insurance companies are mobilizing teams, extending hours and preparing to assist the thousands of residents affected by this disaster. For home owners in this area it's important to know how your property insurance can help you through this catastrophe.
The first order of business for everyone involved is to get to safety and ensure that everyone in your family remains safe throughout this crisis. We are here to help you, so if you have questions about your Armour coverages or have a claim to report please give us a call and we will help your get it sorted out.
Covering Immediate Expenses Incurred Due to Evacuation
Most property policies include a Mass Evacuation feature that is designed to support you during the time that you are on evacuation. This feature can help you to pay for increased living expenses such as hotels and subsidies for those staying with friends and family. It may also assist you in paying for fuel, meals and transportation. Please make sure to keep your receipts to ensure that you're eligable for this claim.
Many Insurance companies have already begun setting up mobile offices in Lac La Biche and in the Northlands parking lot in Edmonton. You likely do not know if you have incurred a loss at this time, but these locations can help with questions and in some cases evacuation expenses as well. To report a claim directly to your insurance company you can use the information provided below or contact our office and we will work with you to help file your report.
For more updated information on Emergency Claims Centres, please see our Fort McMurray Wildfire Update article here.
Intact Insurance
Intact has set up in evacuation centres in Lac la Biche (at the Bold Centre) and the Northland Expo in Edmonton
If you would like to report a claim, please have them contact us at 1-866-464-2424; we have extended our business hours to accommodate any influx of calls. We are available 24/7 to help your customers should they need us.
Email: intact2424west@intact.net Fax: 1-877-464-9378
We have a number of Intact Insurance representatives on standby; we will be on site to assist you and your customers as soon as authorities indicate it is safe for us to do so.
AVIVA Insurance
Since the evacuation order is in effect, our mobile claims centre will be up and running at the Canalta Lac La Biche Hotel, 9905 83 Avenue, Lac la Biche, AB T0A 2C0 by tomorrow morning.
Initial support will focus on issuing cheques for living expenses and other immediate needs. Once the state of emergency is lifted and Aviva gains access to Fort McMurray, we will be able to respond directly to the catastrophe and help the community deal with their losses.
Customers should call 1 866 MYAVIVA (1 866 692 8482) to register their claim and receive immediate support.
Wawanesa Insurance
Economical Reporting a claim
In response to the wildfire in Northern Alberta, Economical Insurance has mobilized its catastrophe response team to the affected area, and is committed to actively supporting local policyholders and brokers throughout the claims process.
Please forward any claims inquiries immediately to our 24-hour emergency claims number at 1-800-607-2424.
SGI Insurance
All SGI CANADA personal property policy holders (including Home Pak, Mobile Home Pak, Tenant Pak, Condo Pak and Agro Pak) who have been evacuated from their communities are covered under the Mass Evacuation policy.
To report claims, please call us at 1-877-435-1484
Traveller's Insurance
The claim intake process is underway. Our team of claim professionals is providing cheques to policyholders at our Edmonton office and throughout the area.
Along with additional claim resources, a Travelers CAT van is en route to the area. These state-of-the-art RVs allow our CAT specialists to travel directly to impacted communities to provide immediate claim service to your customers. In addition, it offers other services such as allowing them to stay connected to friends and family using our satellite technology or to power their phones.
You can reach us 24/7 for claim assistance at 800.661.5522.
New claims can also be reported via email at: newclaims@travelers.com
SMI Insurance
SMI Clients in Northern Alberta can report their claims through Kernaghan Adjusters at 866-988-2371 or ClaimsPro Adjusting at 866-359-4742
For more information about wildfires in Alberta, please refer to the Government of Alberta's wildfire information page.