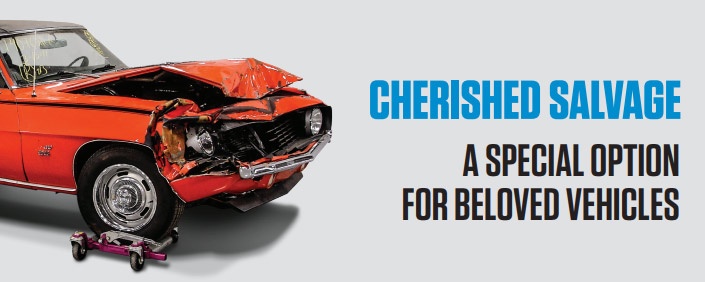 It's a phone call that's never fun to take: a client has a car that's been in the family for generations. To them, it's priceless and impossible to replace. And it's just been totaled. We know that the insurance company will take the wreckage for salvage, until now that is.
Now We Can Tell Them They Get to Keep It.
With Hagerty's Cherished Salvage® car insurance policy, you can keep your vehicle and still receive the full insured value/Guaranteed Value™*.
You've put a lot of time and loving energy into your vehicle. In the unfortunate event of a covered total loss, Hagerty offers Cherished Salvage® coverage: You keep your vehicle to restore it or use the parts for the next project and still receive the full Guaranteed Value™. Either way, the car you love lives on.
Coverage details:
No salvage value will be deducted from your final claims payment if you choose to keep your vehicle
The cost is only 15% of the vehicle's physical damage premiums (if applicable).
If you have a strong tie to your vehicles, this option may be just right for you. For more information or to add this coverage to your policy, give us a call today.
Armour Insurance: 1-855-475-0959